PBR Border Battle: Instant Analysis
August 14, 2018
Brian Feekin
Prep Baseball Report Nebraska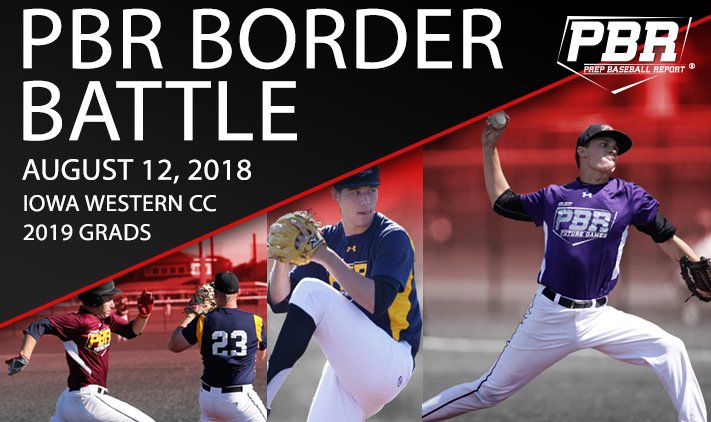 Prep Baseball Report's Border Battle event took place on Sunday, August 12, 2018. The event was held at Doc Ross Field on the campus of Iowa Western CC. The event featured uncommitted Nebraska, South Dakota and Iowa prospects from the 2019 class who showcased their talents in front of our scouting staff and competed in an extended game. Thank you to the players, parents, my staff; along with the coaches from Iowa Western CC for a great event.
CLICK HERE to view Complete Statistics in PDF Format.


Offensive Highlights
Cade Flaherty- 2-3 with a 2B
Noah Halsey- 3-3 with three singles
Nick Kemper- 1-2 w/ Triple
Knock- 2-2, BB, Triple
Thatcher Kozal- 1-2 w/ triple
Below we have listed the leaders for each statistical category at the event.

Interested In Attending A PBR Nebraska Event? Click Here
Interested In Subscribing to Prep Baseball Report? Click Here
60-YARD DASH
| | | | | | |
| --- | --- | --- | --- | --- | --- |
| 6.75 | Howard | Landon | LHP/OF | Gilbert | 2019 |
| 6.81 | Adams | Jay | SS | Waverly | 2019 |
| 6.81 | Zimmerer | Bryce | OF/LHP | Creighton | 2019 |
| 6.82 | Hovelsrud | Easton | OF | Waverly | 2019 |
| 6.86 | Carillo | Kaleb | OF | Waverly | 2019 |
| 6.94 | Kahre | Mitch | OF | Elkhorn | 2019 |
| 6.95 | Kozal | Thatcher | C | Waverly | 2019 |
| 7.02 | Rodriguez | Trey | OF | Kearney | 2019 |
| 7.05 | Reiss | Tyler | OF | Council Bluffs Abraham Lincoln (IA) | 2019 |
| 7.05 | Osborn | Joe | SS | Norris | 2019 |
| 7.07 | Barr | Ryan | C/RHP | Newton | 2019 |
max exit velocity
| | | | | | |
| --- | --- | --- | --- | --- | --- |
| 97 | Holtorf | Derek | 1B | Seward | 2019 |
| 90 | Kemper | Nick | C | Sioux Falls Lincoln (SD) | 2019 |
| 89 | Knock | Avery | 2B | Lone Tree (IA) | 2019 |
| 88 | Adams | Jay | SS | Waverly | 2019 |
| 88 | Kozal | Thatcher | C | Waverly | 2019 |
| 87 | Zimmerer | Bryce | OF/LHP | Creighton | 2019 |
| 87 | Flaherty | Cade | RHP/3B | Omaha Burke | 2019 |
| 86 | Rodriguez | Trey | OF | Kearney | 2019 |
| 86 | Kojdecki | Jarod | 1B/RHP | Millard West | 2019 |
| 86 | Johnson | Korey | 3B/RHP | Glencoe-Silver Lake (MN) | 2019 |
max infield velocity
| | | | | | |
| --- | --- | --- | --- | --- | --- |
| 86 | Craven | Jacob | RHP/SS | Ogden | 2019 |
| 84 | Flaherty | Cade | RHP/3B | Omaha Burke | 2019 |
| 83 | Adams | Jay | SS | Waverly | 2019 |
| 78 | Knock | Avery | 2B | Lone Tree (IA) | 2019 |
| 78 | Mortensen | Ethan | SS/RHP | OABCIG | 2019 |
max outfield velocity
| | | | | | |
| --- | --- | --- | --- | --- | --- |
| 89 | Zimmerer | Bryce | OF/LHP | Creighton | 2019 |
| 84 | Reiss | Tyler | OF | Council Bluffs Abraham Lincoln (IA) | 2019 |
| 82 | Howard | Landon | LHP/OF | Gilbert | 2019 |
| 81 | Rodriguez | Trey | OF | Kearney | 2019 |
| 81 | Lange | Parker | OF | Elkhorn | 2019 |
| 80 | Hovelsrud | Easton | OF | Waverly | 2019 |
max catcher velocity
| | | | | | |
| --- | --- | --- | --- | --- | --- |
| 78 | Huber | Tanner | C | Gretna | 2019 |
| 76 | Barr | Ryan | C/RHP | Newton | 2019 |
| 74 | Kemper | Nick | C | Sioux Falls Lincoln (SD) | 2019 |
| 70 | Kozal | Thatcher | C | Waverly | 2019 |
| 68 | Meyer | Grant | C | Concordia | 2019 |
top pop times
| | | | | | |
| --- | --- | --- | --- | --- | --- |
| 1.95 | Kemper | Nick | C | Sioux Falls Lincoln (SD) | 2019 |
| 2.00 | Barr | Ryan | C/RHP | Newton | 2019 |
| 2.06 | Huber | Tanner | C | Gretna | 2019 |
| 2.08 | Kozal | Thatcher | C | Waverly | 2019 |
| 2.09 | Meyer | Grant | C | Concordia | 2019 |
max fastball velocity
| | | | | | |
| --- | --- | --- | --- | --- | --- |
| 85 | Wize | Alex | RHP | Omaha Burke | 2019 |
| 84 | Flaherty | Cade | RHP/3B | Omaha Burke | 2019 |
| 84 | Burns | Tyler | RHP | Council Bluffs Lewis Central | 2019 |
| 82 | Rardin | Tyler | RHP | Council Bluffs Abraham Lincoln (IA) | 2019 |
| 81 | Craven | Jacob | RHP/SS | Ogden | 2019 |
| 81 | Drazkowski | Brady | SS/RHP | Cochrane-Fountain City (WI) | 2019 |
| 80 | Barr | Ryan | C/RHP | Newton | 2019 |
| 80 | Zimmerer | Bryce | OF/LHP | Creighton | 2019 |
| 80 | Mortensen | Ethan | SS/RHP | OABCIG | 2019 |
| 79 | Howard | Landon | LHP/OF | Gilbert | 2019 |
| 79 | Kojdecki | Jarod | 1B/RHP | Millard West | 2019 |