Sickles Fights Off Plant in Back and Forth Battle
April 5, 2023
Peter Ralston & Patrick Janicki
PBR Florida Staff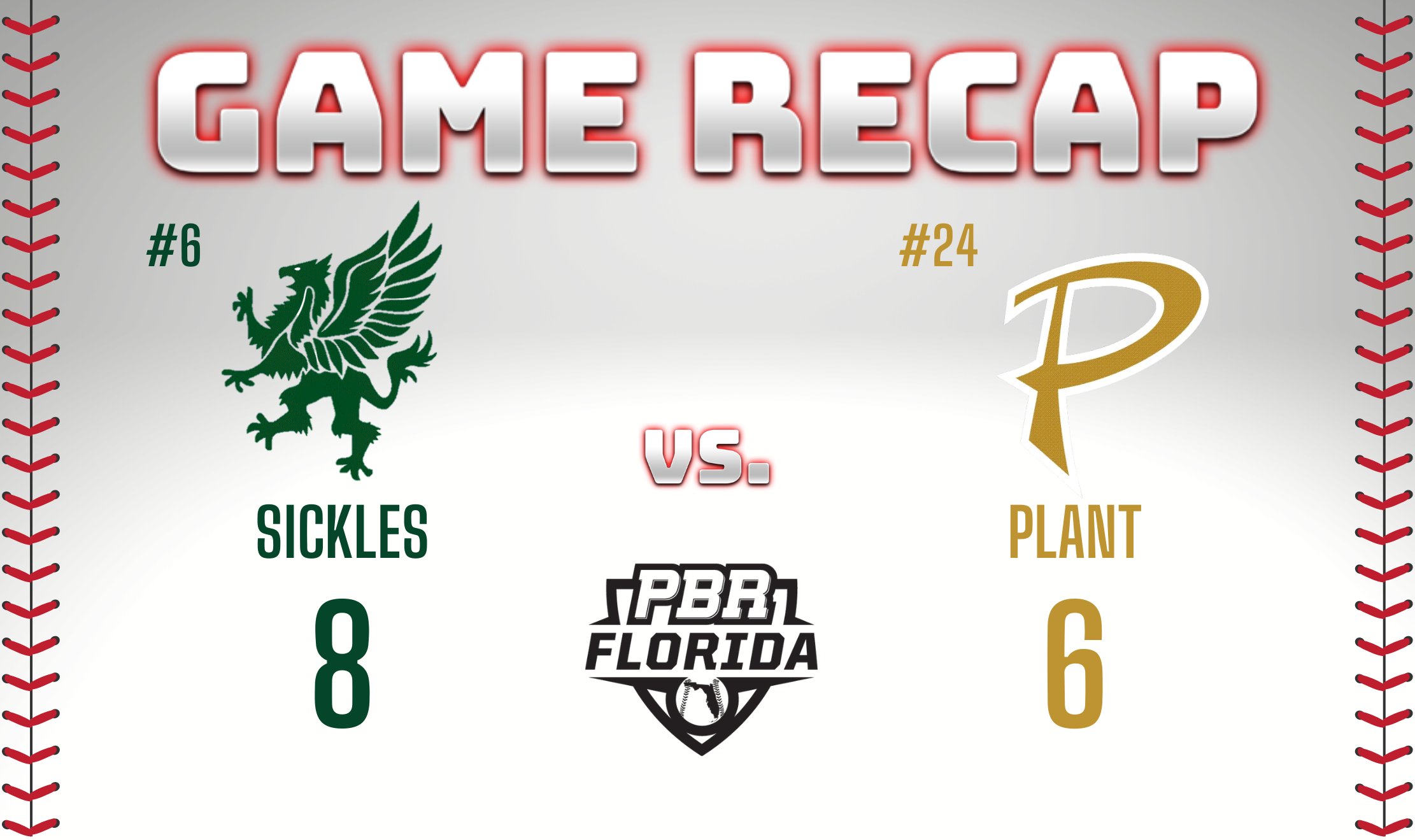 Last night two top 25 ranked teams #24 Plant and #6 Sickles battled back and forth but ultimately Sickles came out victorious. The matchup was highlighted by two home runs from Sickles and a strong rally from Plant that was just short of sealing a comeback.
Cameron Guise started things off for Sickles and he had a solid performance through three and one third totaling three strikeouts against a solid Plant lineup. Guise's fastball sat between 85-86 mph while touching 87 and he complimented that with an advanced curveball between 71-74 mph.
Cameron Guise '24 (FL) RHP/INF

Commanded the zone well tonight with S/M stuff.

FB sitting 85-86 T87
CB 71-74#UNcommitted arm with M2C@PBR_Uncommitted @SHSGryphonsBB pic.twitter.com/G8ubxkgk0i

— PBR Florida (@PBRFlorida) April 5, 2023

In the second inning, the Gryphons first baseman Caden McDonald sent a pitch over the centerfield wall adding two more runs making it 4-0. However, Plant rallied back adding one in the top of the third with an RBI single.
Plant took the lead in the top of the fourth scoring four runs. First with a walk that brought in one run followed by a two run RBI single from Cash Strayer. Jackson Meade followed Strayer and hit an RBI single that gave Plant the lead making it 5-4.
Cash Strayer '25 (FL)

Goes oppo for a 2RBI single

The @GatorsBB recruit shows patience in a 2K count adding a couple for @PlantHighSports pic.twitter.com/X3gVhUdxuA

— PBR Florida (@PBRFlorida) April 5, 2023

This lead would be short lived for Plant. Sickles matched Plant's four runs in the top of the inning with four runs of their own in the bottom of the inning. Hayden Yost started things off with home run that went deep to center field. Later in the inning Thomas Bly hit a two run double that gave Sickles back the lead at 8-5.
'23 Hayden Yost - OF

The @GatorsBB commit adds to his day with a #PBRBombSquad💣 to give the Gryphons the lead 6-5 in the bottom of the 5th.@SHSGryphonsBB pic.twitter.com/nHk7kFsZ1k

— PBR Florida (@PBRFlorida) April 5, 2023

Plant would try and put together another rally in the top of the 6th but came up short. Robert Satin would produce an RBI single making it 8-6 but that would be all Plant could do. Luke Fikar came in for Sickles to help wrap things up, facing the last four batters and only giving up one hit and earning the save.
UPCOMING EVENTS
| | | | |
| --- | --- | --- | --- |
| SHOWCASE | STATE | DATE | LOCATION |
| Unsigned Senior ID West | FL | 05/30 | Clearwater, FL |
| 2023 Sunshine State Classic (Invite Only) | FL | 06/03 | Daytona, FL |
| All-American ID West FL | FL | 06/06 | Jack Russell Stadium - Clearwater, FL |
| Team FL ID West | FL | 06/06 | Jack Russell Stadium - Clearwater, FL |
| All-American ID Central FL | FL | 06/15 | Altamonte Springs, FL |
| Team FL ID Central | FL | 06/15 | Altamonte Springs, FL |
| All-American ID South FL | FL | 06/20 | South FL |
| Team FL ID South | FL | 06/20 | South FL |
| All-American ID Northwest FL | FL | 06/27 | Tallahassee, FL |
| Team FL ID Northwest | FL | 06/27 | Tallahassee, FL |
| All-American ID East FL | FL | 07/05 | East FL |
| Team FL ID East | FL | 07/05 | East FL |
| Gulf Coast Open | FL | 07/11 | Mississippi Gulf Coast CC - Perkinston, MS |
| Gulf Coast Rising Stars ID | FL | 07/11 | Mississippi Gulf Coast CC - Perkinston, MS |
| All-American ID North FL | FL | 07/12 | Jacksonville, FL |
| Team FL ID North | FL | 07/12 | Jacksonville, FL |
| All-American ID Southwest FL | FL | 07/14 | Bishop Verot HS - Fort Myers, FL |
| Team FL ID Southwest | FL | 07/14 | Bishop Verot HS - Fort Myers, FL |
| All-American ID Southeast FL | FL | 07/16 | Fort Pierce, FL |
| Team FL ID Southeast | FL | 07/16 | Fort Pierce, FL |
| Unsigned Senior ID East | FL | 07/18 | Melbourne, FL |
| PBR Junior Future Games | NATIONAL | 07/25 | LakePoint |