Top Prospect - Chicago: Quick Hits
June 13, 2018
Illinois Scouting Staff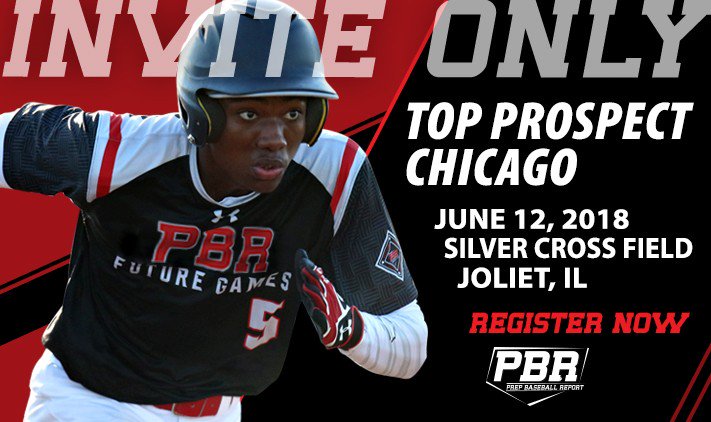 The Top Prospect-Chicago is a staple summer event for rising seniors from Illinois and Wisconsin. This year's event brought over 50 colleges and over 65 players to Route 66 Stadium, home of the Joliet Slammers in Joliet, IL.
The event, a pro-style workout, is a kick-off to the summer in a way and known for bringing plenty of names, new and familiar, to the forefront. A number of the guys listed below will be high-follows throughout the summer.
Below is an early look at some of the top performances from the event:
QUICK HITS:
Pitchers
+At the Top Prospect Chicago, there was no shortage of hard throwing right-handed pitchers. From the glut of arms, there were multiple that impressed with their top fastball velocity. To name a few (Listed alphabetically):
+Tristan Cazel (St. Charles North) at 85-87 mph; Nick Gilhaus (Normal Community) at 86-88 mph; Jacob Karaba (Neuqua Valley) at 87-88 mph; Riley LeTourneau (Brookfield East, WI) at 86-87 mph; Luke Markunas (Washington) at 86-87 mph / T88; Ernan Rivera (Solorio) at 86-87 / T88; Jacob Rosenkranz (Stevenson) at 85-86 mph; Tim Rybarczyk (Lincoln-Way Central) at 83-87, T88.
+Perhaps the most impressive RHP of the bunch was RHP Joe Glassey (Lakes Community). At 6-foot-3, 190-pounds, Glassey utilized a low ¾ to ¾ arm slot showing off his late/hard running 2-seam at 87-89 mph as well as having an advanced changeup in his back pocket. He also showed the ability to throw his sweeping slider for a strike.
+Of all pitchers in attendance, Robert Jackman Jr (Lincoln-Way West) claimed the hardest fastball at 90 mph. Jackman spotted up his first five fastballs at 85-87 mph and revved it up for his final pitch, when he hit 90 mph on the gun.
+At 6-foot-8, 200-pounds, LHP Johnny Beck (New Rochelle) headlined the crop of southpaws and the long-limbed frame was noticed. Beck used his 6'8 height to work down the mound and create tilt on his fastball that sat 85-86 mph. The lefty also flashed a sharp slider that had feel for the zone.
Infielders
+ INF Samuel Correa (St. Patrick) is a quick footed (6.84 60) switch-hitter with a line drive, contact approach from both sides. Defensively, he showcased soft hands, athletic actions and a strong arm that carried across the diamond at 86 mph.

+A number middle infield prospects impressed with live, loose arms that carried across the infield, specifically: INF Tucker Cole (Dixon), INF Johnny Colombo (Lane Tech), and INF Ethan Harrast (Hinsdale Central).

+Already a highly regarded prospect in his class, 3B Nick Kosmetatos (St. Francis) continues to trend upwards. The 6-foot-1, 190-pound infielder has a strong, durable frame with wide shoulders. Offensively, the right-handed hitter works gap-to-gap and the ball jumps off his bat with ease (96 exit velocity). At the hot corner, Kosmetatos showed off soft hands and a loose, easy arm action across the infield (88 mph). Despite his size and strength, Kosmetatos still remains fleet footed, running a 6.90 60 yard dash.

+1B Tyler Brandenburg (Lake County Lutheran, WI) stands 6-foot-3, 222-pounds. With present strength, Brandenburg posted the top exit velocity at 104 mph and made some of the hardest contact of the day during his round of BP.

+Athletic C/3B Alex Powers (Prairie Ridge) has a strong, wiry frame with advanced flexibility. At 6-foot-1, 180-pounds, Powers plays the game with in an aggressive manner, He attacks baseballs offensively and defensively is equipped with plus catch and throw skills.
Athletic Outfielders
+ Highly-athletic, left-handed hitting OF Garret Cook was instrumental in Plainfield North's state title run last weekend and showed a few reasons why on Tuesday. Cook ran a 6.77 60, which seems to play up during games and flashed some strength in his left-handed swing.
+ OF Dominic Listi (Prairie Ridge) is an wiry, athletic left-handed hitting outfielder that impressed on both sides of the ball. At the plate, Listi sprayed line drives to the middle of the field in his round of BP with strong hands and present bat speed, clocking an 93 mph exit velocity. He also showed off his all around natural athletic ability in the outfield, flashing signs of upside for the Prairie Ridge outfield.
+L/L OF Jake Novak had a big spring for Loyola and carried it over to Tuesday's event. Novak, a left-handed hitter, has an athletic 6-foot-1, 175-pound frame and creates pull-side leverage at the plate which resulted in one of the few home runs we saw in BP.

+ OF Khyle Radcliffe (Morgan Park) is a high-ceiling athlete that flashes head-turning ability at times. Radcliffe has an easy, level left-handed swing with the ability to backspin the baseball with authority to both gaps. In the outfield he has an explosive arm, topping out at 93 mph.
+ Pierce Jones (Marian Catholic) was yet another outfielder in attendance who was coming off a big spring season. Jones, who continues to chisel out his 6-foot-1, 180-pound frame had a solid overall day. Jones ran a sub 7.0, looks like he could play all three outfield spots and has present bat speed at the plate.

+OF Nick Iannantone (Joliet Catholic) had some of the most impressive statistical numbers on the day. The 6-foot-2, 215-pound, physical specimen, ran the event best 60 yard dash at 6.51. Iannantone's exit velocity topped 92 mph from a tee and also threw 85 mph from the outfield.

Colleges in Attendance
Iowa Wesleyan University, Calvin College, Western Illinois, Creighton University, Benedictine University (Lisle), Michigan State, Kalamazoo College, University of Illinois-Chicago, Ripon College, Wartburg College, Wisconsin-Milwaukee, Southern Illinois Edwardsville, Heartland CC, Lindenwood University-Belleville, Eastern Illinois, University of Illinois-Springfield, Carthage College, Central Michigan, Brown University, Roosevelt University, Indiana University-Kokomo, Aurora University, Purdue-Fort Wayne, Wabash Valley College, Michigan, Valparaiso, St. Francis, Webster, Upper Iowa, Quincy, North Central College, North Park, Southeastern CC, Concordia-Wisconsin, Hills CC, Lewis University, Triton JC, Kaskaskia College, Wisconsin-La Crosse, Hillsdale College, University of Evansville, Earlham, Loras College, Dominican University, Bradley, Milikin, Winona State, Concordia-Chicago
RELATED CONTENT